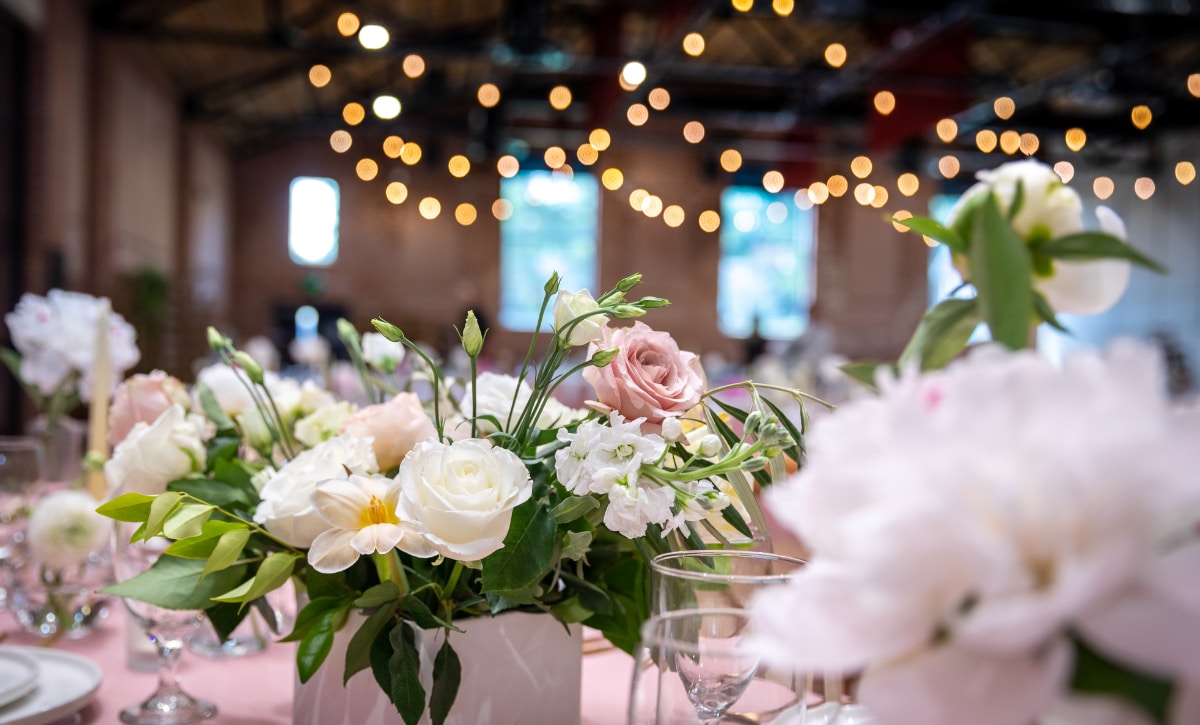 Tips and Suggestions When Planning Flowers for your Wedding
September 20, 2023
Tips and Suggestions for Planning Wedding Flowers
When it comes to planning your wedding, flowers play a crucial role in setting the ambiance and adding beauty to your special day. Here are some tips and suggestions to remember when planning flowers for your wedding:
1. Consult with an Experienced Florist
Before making any decisions, it's important to consult with a florist who has experience working at your ceremony and/or reception sites. Ask if they have worked at these locations before and if possible, view pictures of the arrangements they've done at the site. This will help them understand what sizes, shapes, and colors work well in the space. If they haven't worked there before, provide them with photos or descriptions of the venue to give them an idea of the space they'll be working with.
2. Consider Timing
Timing is essential when it comes to buying certain flowers, especially if you're planning to incorporate red roses into your arrangements. If you're getting married around Valentine's Day, be prepared for a significant increase in the price of red roses due to high demand. Consider alternative flower options or be prepared to allocate a larger portion of your budget for the roses.
3. Choose a Color Palette that Suits Your Style
When selecting a color palette for your wedding flowers, opt for colors that complement your wedding style and overall theme. Bring along a fabric swatch from one of the bridesmaid dresses when meeting with your floral designer. This will help them match the flower colors to the overall color scheme of your wedding.
4. Take the Season into Account
The season in which you're getting married should influence your choice of flowers. If you're having a summer wedding or getting married in a humid climate, opt for hardy flowers that won't wilt easily, such as sunflowers, zinnias, dahlias, lilies, and hydrangeas. On the other hand, avoid flowers like gardenias, lilies of the valley, tulips, and wildflowers, as they may struggle to withstand the heat and humidity.
5. Consider Size and Proportion
When selecting bouquets for yourself and your bridesmaids, consider the size and proportion. Ensure that the bouquets are not too heavy or difficult to carry, as this can become burdensome throughout the day. Additionally, take into account the style of the dress and the body shape of the person carrying the bouquet. Delicate bouquets may get lost against an elaborate dress, while a small bouquet may overshadow a petite bride.
6. Be Mindful of Fragrance
While fragrant flowers can add a beautiful aroma to your wedding, be mindful that overpowering scents can lead to sneezing or discomfort. Some highly fragrant flowers include freesia, lilies, lilacs, tuberoses, gardenias, and lilies of the valley. Use these blooms sparingly to avoid overwhelming your senses.
7. Arrange Access to Ceremony and Reception Sites
Don't assume that your florist will have access to your ceremony and reception sites early on the day of your wedding. It's important to make necessary arrangements, such as obtaining written permission and a key if required, to ensure that everything can be set up smoothly before the ceremony begins.
8. Coordinate Delivery Time with Your Photographer
To ensure that your bouquets, corsages, and boutonnieres are captured in formal pictures, coordinate the delivery time with your photographer's arrival. This will ensure that these floral elements are worn or held during the photoshoot, adding to the visual memories of your special day.
9. Dry Bouquet Stems Before Distribution
If you're keeping the bouquets in vases of water to maintain their freshness before the ceremony, make sure to dry the stems thoroughly before handing them out to the bridesmaids. This will prevent water stains from appearing on the front of their dresses just moments before they walk down the aisle.
10. Consider Creating a Tossing Bouquet
Traditionally, brides toss their bouquets during the reception. Instead of using your actual bridal bouquet for this ritual, consider having your florist create a smaller tossing bouquet. This will prevent any damage to your main bouquet and eliminate the need to spend additional money on a low-maintenance arrangement specifically for the tossing tradition.
11. Explore Additional Decor Options with Your Florist
Keep in mind that many florists also offer event design services. Instead of dealing with multiple vendors for different aspects of your wedding decor, consider consulting with your florist. They may be able to provide decorations like balloons, streamers, lanterns, and even chairs, simplifying your planning process and reducing stress.
How Much Should You Expect to Spend on Flowers?
Determining the budget for wedding flowers can be challenging. Costs can vary depending on factors such as the city, season, guest list size, and individual preferences. To provide a rough estimate, here is a breakdown of the average percentages for a wedding with a 150-person guest list and a 10-member bridal party:
55% on reception table centerpieces and other miscellaneous decor elements of the reception

14% on bridesmaid bouquets

12% on ceremony decorations

7% on your bouquet

5% on boutonnieres

5% on corsages

1% on the flower girl's basket

1% on the tossing bouquet
These percentages are just a general guide and can be adjusted based on your specific needs and budget allocations.
Remember, planning your wedding flowers should be a collaborative process between you and your chosen florist. Communicate your ideas, preferences, and any budget constraints, and let their expertise guide you in creating beautiful floral arrangements that will make your wedding day truly memorable.
Request a Consultation with Us